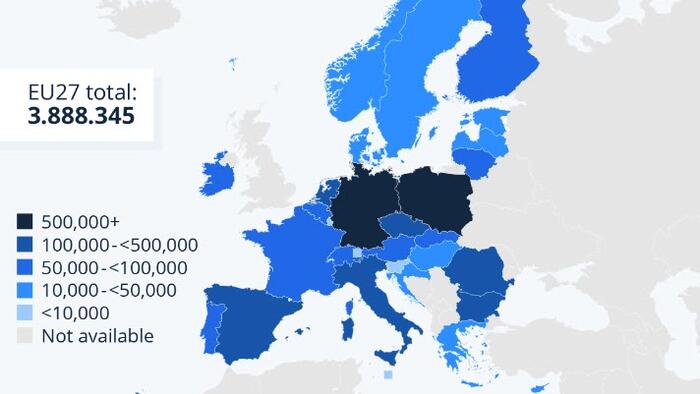 Almost four million non-EU citizens who fled the war in Ukraine had been granted temporary protection by the end of March 2023. according to the blog's official Eurostat database.
As Statista's Anna Fleck reports, 98% of them were Ukrainian citizens, with women between the ages of 35 and 64 making up the largest proportion (47%), while 35% were children and only 18 % men As the graph below shows, the highest number of applications was granted in Germany, which granted temporary protection to 1,067,755 people, followed by Poland with 976,575 and the Czech Republic with 325,245.
You can find more infographics at Statista
The EU's Temporary Protection Directive was first adopted in 2001 following the armed conflicts in the Western Balkans. and subsequent large displacement of people.
But while the directive is more than 20 years old, it was only enacted for the first time in March 2022, following Russia's invasion of Ukraine. This has raised questions about why it was not used earlier, for example during the migration policy crisis of 2015, prompting criticism of Europe's double standards in helping refugees from different countries.
The directive offers beneficiaries a number of rights, such as a residence permit for the duration of the protection (which can be from one to three years), as well as such as access to the asylum procedure, access to employment, adequate housing, social assistance, medical care and education for under-18s.
According to Eurostat, the number of applications had decreased across the EU from a month earlier due to the withdrawal of temporary protection statuses.