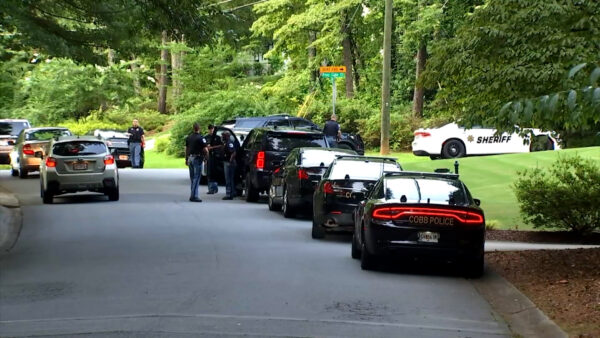 Well over 100 people were killed in hundreds of shootings across the United States over the Fourth of July weekend amid a surge in crimes and homicides in major metropolitan areas, according to an analysis.
Data provided by the Gun Violence Archive shows that more than 540 shootings occurred in a 72-hour period between Friday and Sunday, reported NPR. It also showed that at least 180 homicides were recorded.
At least 19 people were killed in Chicago alone over the weekend, according to the Chicago Police Department. Around 104 people were shot in all.
Authorities in the city said they had to respond to a number of large, unruly crowds.
"There's been a lot of large crowd gatherings tonight, a lot of celebratory fireworks going off, kind of spontaneous," police Superintendent David Brown said during a press conference, according to the outlet. "They were dispersing a crowd when they heard shots and felt pain."
In New York City, a New York Police Department spokesperson to the news outlet there were 26 victims and 21 shootings over the weekend, which is a decrease from the previous year when 30 people were shot in 25 shootings.
At least eight people were shot following an argument in Fort Worth, Texas, at around 1:30 on July 4, officials said. They found several victims near a car wash business.
In Richmond, Virginia—a mid-sized city—nine people were shot and killed in eight separate shootings in 48 hours, authorities said. That included two men who were found shot and killed on Mechanicsville Turnpike.
Officials in Syracuse, New York—another medium-sized city—said five people were shot in three separate shootings over the holiday weekend.
This year, Fox 5 Atlanta reported that "police are investigating a murder in the middle of a fight between as many as 50 kids" on Saturday night.
With the rise in homicides, shootings, and crime, Republicans and Democrats have differing theories on the reason why.
Democrats, while moving to pass more gun-control legislation, said that it's necessary to curb firearm ownership and expand background checks. Some have recently proposed bills, including one from Sen. Dianne Feinstein (D-Calif.), have sought to bar ownership of "assault weapons" and magazines holding more than 10 rounds.
Republicans, however, and numerous law enforcement groups have argued that the "defund the police" movement that spawned during Black Lives Matter protests last year created an anti-police animus that has emboldened criminals. Meanwhile, lax laws including bail reform in places in New York and Chicago have made it easier for offenders to return back to the street, they've argued.
Last week, Chicago Superintendent David Brown said that lax restrictions and the court system's handling of violent offenders are primary reasons why the city has seen a surge in crime.
"This is happening because there is too much advocacy for violent offenders and too little consequences for their behavior in the courts," Brown said during a meeting with aldermen last week.
A Chicago Tribune analysis found that more than 90 suspects charged with murder were out on electronic monitoring by mid-May; whereas four years ago, that number was about 30, Brown noted. And about 570 suspects charged with aggravated unlawful use of a weapon were out on electronic monitoring by the same time; four years ago, that number was about 180, he said.